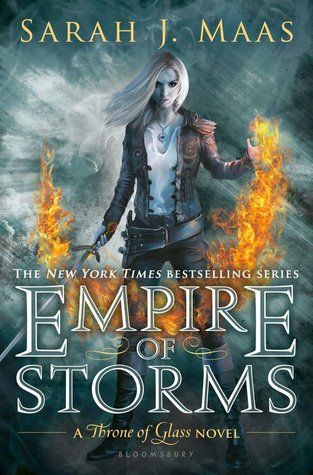 Empire of Storms by Sarah J. Maas
Throne of Glass #5
Publisher: Bloomsbury USA Childrens
Publication Date: September 6th, 2016
Rating: 3.5 Stars
Source: Purchase
Format: Hardcover
Pages: 693
Amazon - Barnes and Noble
Summary (from Goodreads):
The long path to the throne has only just begun for Aelin Galathynius. Loyalties have been broken and bought, friends have been lost and gained, and those who possess magic find themselves at odds with those don't.
As the kingdoms of Erilea fracture around her, enemies must become allies if Aelin is to keep those she loves from falling to the dark forces poised to claim her world. With war looming on all horizons, the only chance for salvation lies in a desperate quest that may mark the end of everything Aelin holds dear.
Aelin's journey from assassin to queen has entranced millions across the globe, and this fifth installment will leave fans breathless. Will Aelin succeed in keeping her world from splintering, or will it all come crashing down?
The beginning of this book finds Aelin and her court traveling North to finally reclaim her throne in Terrasen. But a meeting with several Lords of Terrasen changes her plans when she finds out that they refuse to recognize her as their queen. So instead of heading to Orynth, she heads out to raise hell and raise an army for Terrasen in the war against Erawan and his darkness.
When we first met Manon and the rest of her Thirteen in Heir of Fire, I was so annoyed. I thought that her point of view was pointless. I didn't like her or any of the witches. I thought that they were unnecessarily cruel to everyone. But Manon has grown on me SO much! She is probably my favorite character in this series. And I thought that the turn her storyline took in this book was SO interesting! When we first see her she is getting ready to sack Rifthold. She kills one of another coven's sentinels to save Dorian and as punishment, her second is to die.
But she has other plans for her Thirteen than what is laid out before them.
I love how much Manon cares about her Thirteen, despite it generally seeming like witches don't care about anything except getting back to the Wastes and killing Crochans. I love Manon's relationship with her flower-sniffing wyvern. I love how they can communicate and how they care about each other and it's just so cute. Even though cute doesn't seem like the kind of word Manon would appreciate being used to describe her.
I liked all the action in this book. I don't feel like things really ever felt slow in this book, I think they did feel a little bit repetitive after awhile, but something was always happening and it was EXCITING.
I love all the strong, wonderful ladies in this book. They're all such fighters. I love how they keep the boys on their toes.
I think the other character I felt the least blah about was Aedion because he's so caring and loyal and he actually seemed to have real feelings beyond lust, being pissed off about something, or just generally being kind of cold.
And I LOVE how things from other books that you wouldn't even think of connecting come up in this book. How things have been coming together for this ENTIRE series and you get to really see some of that in this book and it honestly kind of astounded me and made me really regret not rereading anything before reading this because I bet I would have noticed even MORE! But before I read the last one, I will definitely reread all of the books. I'm excited to see what new things I'll pick up!
Aelin. As usual she is incredibly badass. Which I always have and always will love about her. She's so strong and she cares so much about her people, even if not all of them obviously feel the same way about her. She just gets stronger and stronger and more and more clever as this series goes on.
I just feel like the descriptions of her power were so over the top. The parts where she is digging deep into her power to obliterate some enemy just felt really overwritten to me. And there were several scenes in this book like this, where either Aelin or Rowan are diving into the depths of their power and they're all written the same!
Another thing that bugged me about Aelin was how she was constantly scheming and hardly ever involved anyone else in her schemes. I mean, I can kind of see why, but at the same time, they are there to help her bear the burden of what they're doing. She can lean on them. It was just almost obnoxious how every step of the way something that Aelin schemed up seemed to just happen and everyone is like, "Whaaaaaat?"
Granted, the big scheme at the end did rather impress me.
Honestly, most of the characters were kind of 'meh' for me. I truly do like all of them to some extent, but I just didn't love most of them in this book. Rowan because he's not Chaol and I just don't love him.
Lysandra... I like her. I think she's brave and strong and can definitely pull her own. But I don't know, she was always there, but it was always just talked about how she's in some various animal form and I wanted more of her interacting with people.
Dorian just felt so different to me. And I can understand why. He went through hell in Queen of Shadows, but he just feels so much darker and colder in this book and I don't know how I feel about it yet.
Elide and Lorcan... I will probably eat my words like I did with Manon in Heir of Fire, but I just didn't see how most of their points of view were necessary to this book. I don't see how so much of their journey to find Aelin was important. I think Elide is kind of badass as well, but just don't see why I needed to see so much of her travels.
I don't know, I just wanted MORE from the characters.
I think that this might partially be because I'm forever butthurt about Chaol not being the object of Aelin's affections, but I just didn't like the romance in this book. Like, generally I feel like Rowan is growing on me. I don't HATE him anymore, but I don't like him with Aelin.
But that's not really what I want to talk about pertaining to the romance. Usually I am all about sex scenes in books. When I figured that there would probably be some sexytimes I was kinda pumped. But I quickly went from pumped to UGH because I was SO sick of the constant cuddling, kissing, nibbling, pressing, whatever that was going on with Rowan and Aelin. I feel like there were more mentions of pointy Fae canine teeth and what they were nibbling on than there were mentions of dear old Chaol.
Seriously EVERYONE in this book was like a horny teenager! And I quickly found it getting so old! Every step of the way Aelin and Rowan were kissing and scratching and biting...
I can't believe I'm saying I just wanted them to keep it in their pants.
I feel like a good chunk of this book could have been cut out and it wouldn't have been any different. I'm one who finds repetitiveness incredibly obnoxious to read and I
noticed a lot of it in this book. I no longer want to read the words baldly, incarnate, or any form of the word limn ever again.
I really did enjoy this. Despite the repetitiveness, obnoxious horniness, and overwritten parts, it was an awesome book full of strong and amazing ladies and wonderful relationships. That ending kind of HURTS and I just need the last book in my hands yesterday.
Have you read the Throne of Glass series? What are your thoughts on this installment?